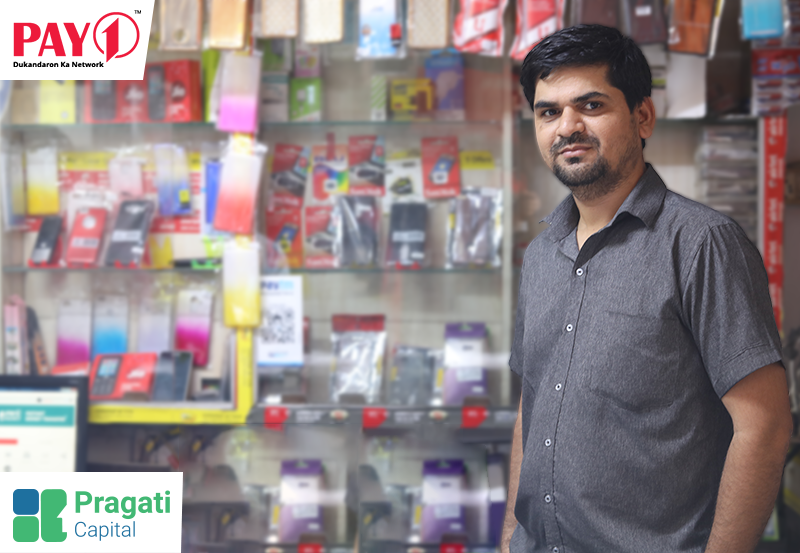 Maturing as a person has a lot to do with accepting the fact that not everything we plan will manifest as we dream. One such story is of our retailer from Allahabad who wanted to study finance and become a financial advisor. Pravin Kumar comes from a middle-class business family; his father owned a wholesale kirana shop in his locality. A sizeable shop that catered to the needs of the locals. Pravin, was not very keen on joining the family commerce and wanted to further his goals by studying more about accounts and finance and equip himself with the knowledge that will be useful for higher studies. His father supported his will to study and provided financial support for his educational fees whenever needed. "I was a bright kid and numbers were the only thing that sometimes made sense to me. It added up perfectly always. Even in the dire of situations a pen and paper could easily help get lost in the world of numbers" Pravin utters.
It was the untimely death of his father that put his dreams to a standstill. Being the only son, he had to take care of his mother and his younger sister. What he thought would be a day where he would be working in a fancy office tackling numbers and advising people was the day when he was opening the aluminum shutter of his shop and sitting behind a counter cross-examining the earnings of the previous day. "After my father's death the business that I hardly wanted any part of was the same business that became my sole purpose," said Pravin. He expanded his business and grew it enormously. But the desire to involve himself in finance to a greater degree kept on lingering inside him. It was around a year back that Pravin came to know about Pay1, utilising our platform services helped him strengthen his income as well as made his shops entirely digital.
A couple of months back we launched Pragati Capital, a platform that provides peerless financial services to the retailers under Pay1 network. Pragati Capital not only provides loans to the retailers but also gives them opportunities to become a loan agent, sell Insurances and Mutual funds to their customers and earn profits on every sale. "It was then with a smile on my face I pondered on the options that I could utilise. Options that will not only help me grow my business but also give an opportunity where I could start educating the locals about how they could increase their income by opting mutual funds and also insure their family or assets they value," conveys Pravin as he emanates with positive outlook towards his business and the dreams of his youth being somewhat fulfilled. "I may not be the financial advisor I had planned to be but what makes me proud is the hard work and dedication that I exhibited while expanding the business. Today, I am a successful entrepreneur, a financial agent and a finance tutor to my customers," says Pravin.
Pragati Platform gives opportunities to retailers alike in helping them push their boundaries of business by providing them services that ensure a considerable growth in their profitability. Our platform develops our retailer network develops it is a symbiotic relationship that we thrive on.