We are back with another exciting contest which is open for all the registered Pay1 retailers. There will be daily match prize winners as well as tournament winners based on the points scored in the prediction contest. The participants can win prizes worth Rs 2 lacs like Bike, TV, Washing Machine, Membership Plan, and Daily Cashback. Predict and Win provides our merchants with amazing opportunities to win these great prizes. The contest will start from 9th April 2021 to 30th May 2021. Download the app now and start predicting!
How to Play
Download the Pay1 Merchant app from Google Play store: http://bit.ly/pay1merchant and register as a Pay1 retailer.
Click on the bottom center 'Predict and Win' icon to enter the contest and earn introductory daily bonus points.
Next, predict the winner and answer a couple of questions related to the respective game. 
As you go on answering, the 'submit' button at the bottom keeps filling up. Once done, click it to submit your prediction. The detailed point structure is given below.
The prediction window opens up everyday at 12:00 am and closes before the start of the game. Ensure to submit your predictions in that timeframe.
There are daily prizes and grand prizes in this contest. You can check both the leaderboards by clicking your rank on the top right of the screen.
All leaderboards will be updated by 12 PM the following day(Next day after the match).
Monitor your performance and progress regularly and see how you fare against others for the ultimate grand prizes
Daily Prizes and Grand Prizes
Daily Prizes
1st Place – Rs 1,000 cash in Pay1 wallet
2nd Place – Rs 500 cash in Pay1 wallet
3rd Place – Rs 200 cash in Pay1 wallet
Grand Prizes
1st Place – Hero HF Deluxe BS6 100CC
2nd Place – Samsung 32 " LED TV
3rd Place – Samsung Washing Machine
4th Place to 20th Place – Pay1 Unnati Membership (1 year)
21st  Place to 100th Place – Pay1 Aarambh Membership (1 year)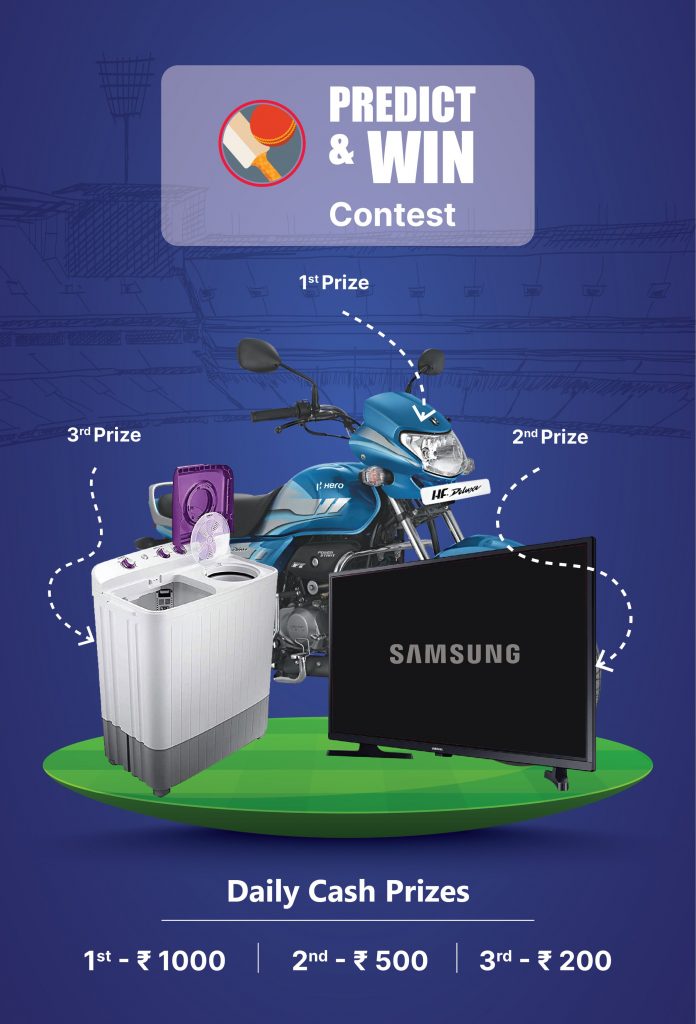 Terms & Conditions
The Predict & Win Contest is open to any Pay1 retailer provided he/she is 18 years and above and is an Indian citizen.
This contest can be played by both existing or new retailer by registering with us. Ensure that 100% profile competition on the merchant app is required to become eligible for grand prizes.
This Contest is subject to the rules and conditions determined by the Pay1 and the relevant laws of India and are not offered or valid outside India. Employees of the Pay1 and members of the immediate families may participate in this Contest but will not be eligible for any prizes.
Predict and Win contest is based on effort, skill, or merit is required to enter to participate. For example, you may require answering certain questions of cricket based on your knowledge and analysis of previous cricket matches to enter the contest. The element of chance does not exist in a contest.
Participation in this Contest is purely voluntary. By participating, you are deemed to have fully and unconditionally accepted these Terms and Conditions.
The prizes are accepted entirely at the risk of the winners, and Pay1 excludes all warranties or representations whatsoever in connection with any prize to the extent permitted by law. Pay1 does not assume any responsibility for the prizes offered under this Contest.
Pay1 reserves the absolute right to substitute the prizes with that of similar value at any time with or without prior notice and without liability or compensation.
There is no cash alternative to any prize/benefits hereunder. Further, Pay1 is not responsible for any additional benefits and do not give any additional guarantee or warranty to the prizes and are non- transferable.
If you are residing and/or accessing the App from any region/state/country where the contest is prohibited or restricted by law or other reasons, then you are prohibited from registering and participating in the Contest. You are responsible for compliance of any laws that are applicable in your country/state/residence. In case you participate in the Contest by misrepresentation, then Pay1 shall in its sole discretion have the right to revoke your access and ban your ID at any stage of the process, forfeit any prize/weekly prize (as defined below) and take legal action against you.
If you are found or suspected to be defrauding the systems of the contest in any manner then, you shall be disqualified from participating in the contest and Pay1 may take legal action against you.
Pay1 reserves the right to change or modify these terms and conditions from time to time, prospectively or retrospectively, at its sole discretion and without any prior intimation to anyone. You are requested to go through these terms and conditions from time to time before enrolling in the Contest. It shall be your responsibility to check these terms and conditions periodically for changes.
Pay1 reserves the right to withdraw or discontinue or terminate the Contest at any stage without prior notice and without any liability whatsoever to you.
The Contest is void in any area where such contest is prohibited by law. Pay1 doesn't take any responsibility whatsoever for any individual enrolling in this contest belonging in that area.
By participating in the Contest, You hereby warrant that all information submitted by you is true and accurate. In case the information provided is not true, Pay1 reserves the right to disqualify you from the competition.
Pay1 reserves the complete right to revoke any contestant or winner if we believe that the contestant or winner has violated any of these Terms and Conditions.
The Daily Prize winners will be awarded cash in their Pay1 wallet within 48 hours post the game is ended. As far as Grand Prizes are concerned, keeping the ongoing circumstances in mind and product availability, we will do our best to reward it within 1 month after the contest ends on 10th November. However, this is subject to an extension of more than 1 month and we don't promise any date when he will receive the price. Pay1 reserves the sole right to decide the date and timeframe for grand prize distribution.
All taxes, levies and duties due and owing under applicable and statutory laws in connection with all Daily Prize and Weekly Prize if any, and all other costs, including insurance, incidental costs, gifts, gratuities and taxes, are the sole responsibility of the prize winners. Pay1 shall not be liable for payment of any tax on the prize.
'Predict and Win' offered by Pay1 is free of cost and is meant for entertainment purposes only, and is not a contest, gambling, betting, award, challenge, or any illegal activity in any form or manner.
Pay1 including its partners and their respective agents and representatives, employees shall not be responsible and liable for any loss/failure/inability on your part to participate in the contest for any reason whatsoever including, due to any technical problems, as a consequence of computer service delays, interruptions, electronic or communication failures or overloads, crashing/non-functioning of the merchant app.
Pay1 does not make any commitment, express or implied, to respond to any feedback, suggestions and, or, queries of the participant of the contest or furnish any reason or explanation for inclusion and, or, exclusion of any particular question or answer at any stage of the contest.
Acceptance of the prizes constitutes the winners' unconditional agreement to and permission to Pay1 and its agencies to use the winners' names, winner and photograph and/or likeness for purposes of advertising, editorial, promotional, marketing, trade and/or other purposes without further compensation and notice unless prohibited by law. Pay1 fully reserves its rights to such forms of publicity and publication.
You may contact Pay1 in respect of the contest at help@pay1.in or call 022 42932288. However, Pay1 does not make any promises or commitment, express or implied, to respond to any feedback, suggestion and, or, queries of the participant of the contest.