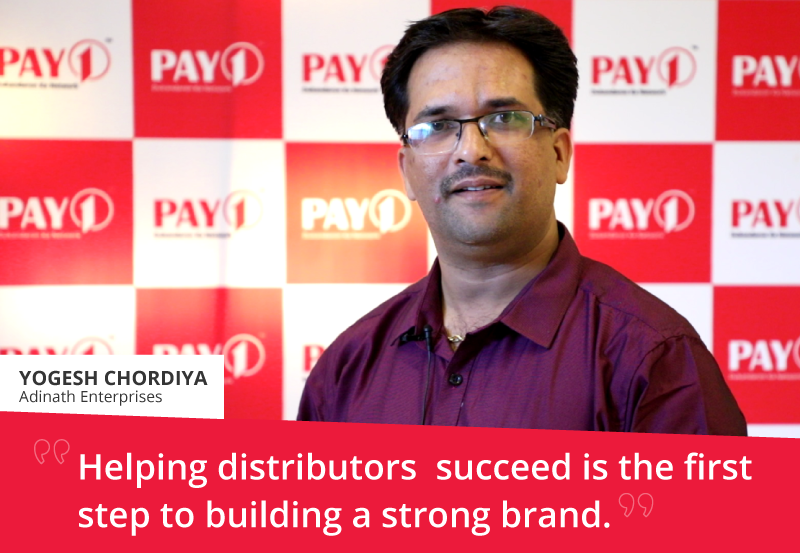 Yogesh Chordiya of Pune was running a regular grocery store, before he got associated with Pay1 as a distributor. As a grocery store owner, the margins were good but the new wave of mobile based shopping, online recharge and remittance posed a lucrative business idea. Thus inspired by the wave of internet and telecommunication based business, Yogesh migrated from a grocery store owner to a distributor business model. He dabbled with distributorship in recharge with some top notch telecommunication company before finding Pay1 and settling himself as a successful distributor for the past 5 years.
Yogesh believes that one of the main attributes to his success and many other distributors like himself is the unwavering customer service and support offered by the company. "I have interacted with many telecommunication and retail companies, but the speed of resolution and quality of solution extended by Pay1 far exceeds others", says Yogesh who has made many friendly acquaintances in the support staff team of Pay1.
Being in the business of recharge and having dealt with many operators and service providers, Yogesh knew that the biggest pain point for a retailer is perpetual recharge failures or delayed confirmations. "Pay1 offers unmatched service by having a very high percentage of recharge success and immediate transaction reversal in case of an erroneous transaction", explains Yogesh. The user friendly interface and excellent speed of service and update messages makes Pay1 an easy sell among retails.
Pay1 since its inception has always believed in empowering distributors as they become the local face and their brand experts. Yogesh who has a huge network of retailers and claims that Pay1 has always given them an open communication channel to address their challenges, gather market feedback and customize plans and offers based on distributor inputs.
As a veteran distributor with 300 retailers under his umbrella, Yogesh understands how the distributor machinery works. "If you want your dealers and distributors to sell your products and become loyal advocates for your brand, you must help them be successful. You must help them become stronger business people, more knowledgeable brand experts and better sellers", explains Yogesh. Pay1 achieves this vision by proactively providing up-to-date information and easy, accessible training opportunities to keep the distributors as well as staff well educated about the company. "We receive constant updates, sales and services training, app usage training, sales and business management skills training, and also industry insights to improve our understanding of the current competition and development," elaborates Yogesh who understands the audiences and products offered by all competitors well.
Another factor that binds distributors like Yogesh to the Pay1 platform is the completely transparent system of commissions and transactions, "We don't have to worry about any hidden charges or conditions attached", he explains. As a large distributor, Yogesh extends credit to his partner retails.
Pay1 has always had people and practices in the centre of its culture and policies thus forging the way to provide a prosperous business ecosystem for its brand ambassadors- the distributors like Yogesh.