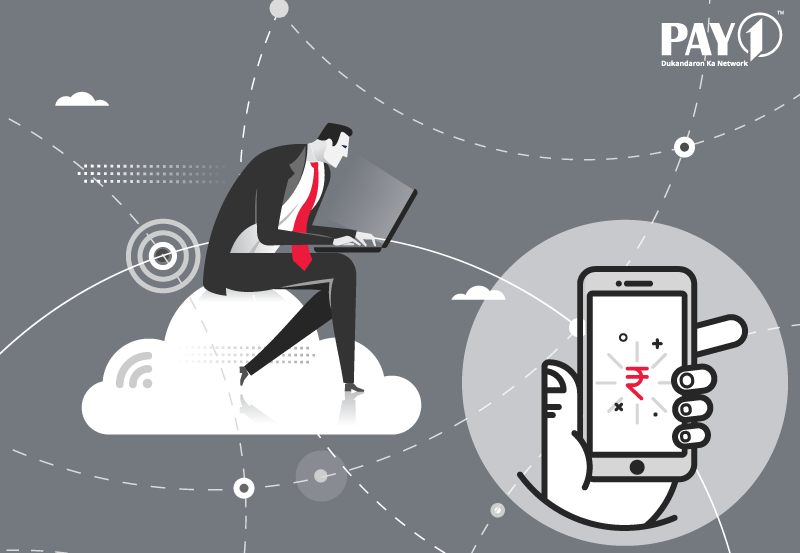 2016 saw the epilogue of higher denomination currency, our government's decision of demonitisation changed the financial landscape of India. That decision also led to the rise of digital payment systems and a cashless economy. Before talking about Digital payment system penetration, let's talk about Internet penetration.
Internet users in India have grown extensively in the last couple of years. In 2017, we had around 429 million internet users in India, the Cisco reports project the users may double by 2020. Smooth mobile network connectivity will ease our growth, making India the second country with the largest mobile and internet penetration, second only to China.
So we have Internet/Digital growth and adoption but do we have acceptance of Digital payments.
In the past 4 years, our digital footprints have increased extensively. Thus migrating to digital payments makes a logical sequence to the widespread online presence. But the trend defies logic in the Indian market. In spite of various services like mobile wallets, UPI, and AePS the government or other private digital payment service companies have still not been able to penetrate the market effectively.
This creates the need for a technology platform which envelopes buyers, suppliers and the distributors. An ecosystem which gets digital payment to a customer's doorstep will need to provide more value to the customer than just cashless transactions.
This value can come in the form of empowering retailers to accept digital payments and provide additional services and products which impact the overall customer experience.
A retail tech platform like Pay1 with its robust technology and a large market penetration can bridge this gap between digital payment availability and adoption. If a customer can approach a retail store and make a digital payment to the retailer, who in turn can make a digital payment to his distributor will make the whole value chain digital.
Additional services like loan disbursal, insurance renewal, ticketing, and logistics can become digital transactions on a single secure platform.
Pay1 a retail tech platform provides value-added services via digital payment not just to the last mile but also to the retailers. Financial product partners' like Pragati capital provide quick and hassle-free e-loans to the retailers to increase their offerings. If the retailer gets an e-loan, services EMIs via digital transactions, the whole up chain and down chain become digital.
Thus the 'press enter' becomes the digital currency.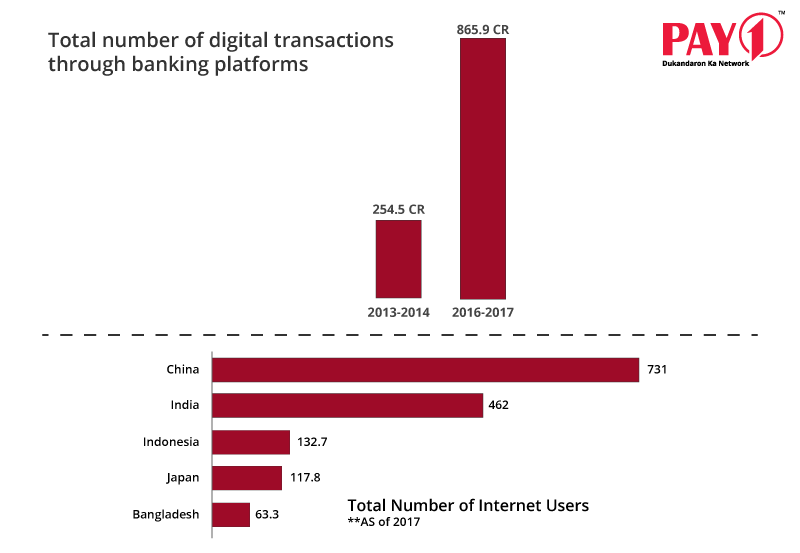 But what hinders growth.
India may have internet penetration, but we still lack high-speed connectivity in nonurban areas. India has 429 million internet users of which 129 million are in rural and semi-urban areas. For any digital payment services to have a stronghold the 3G and 4G services need to expand in the rural hinterland as well. Another challenge is that not every person in India is covered by a bank account. For any digital payment system to root itself it needs a substantial bank account and financial services users. For banks and other financial services, the constant challenge has been to convince people to open bank accounts and then distribute their services at an affordable rate.
According to the numbers shared by the ministry of finance in December 2017, near to 30.71 crore people are covered in Jan-dhan scheme which includes 12 crore people residing in urban areas. Which means till date Jan-dhan scheme has covered only 18 crores of the population, out of which near to 100 crore people residing in the nonurban regions of India. With aggressive promotions carried out by the government and private companies regarding mPOS, UPI and AEPS services, the psyche of rural residents may have been shifting a bit towards growing digital services. But shifting the agrarian economy to digital payments will need the entire value chain to adopt the digital payments. This coupled with the lack of technology savviness compounds the problem. It is important to make spread awareness and benefits of digital payments.
For "Digital India" revolution to pick momentum we need the farmers, retailers and other traders to adopt the digital services. The government, as well as private organisations, need to set up educational camps to educate people about digital payments and bank accounts and why it is important for every citizen to be covered under a financial scheme.