We cater to an audience that is widespread to the nooks and corner of our country, no other form of business has been able to pierce the Indian subcontinent as the convenient stores we deal with on regular basis. They are omnipresent and common. It is taken for granted that every curving street and dusty lanes will have one of these retail outlets.
These retailers serve those audiences who are difficult to reach out to through traditional marketing mediums. The population that needs to be targeted, the Bharat two and the Bharat three populace is within hands reach to these shop owners. So it becomes quite clear that these trustworthy shop owners can act as an evangelist, communicate with the customers and inform them about services that are nowadays of prime importance. This is one of the business model Pay1 aims to strengthen. We already have an impeccable working model that gives our platform to the companies to reach out to their audience. We not only give opportunities to the companies but we also give gamut of service options to our retailers. We recently launched a couple of new services/platforms which raises the bar immensely and gives our network more options to strengthen their business.
Pragati Capital – Ek Kadam Aarthik Aazadi ki or…
Pragati capital aims for financial inclusion of the merchants, provide them loans and equip them with services such as mutual funds and insurance that they can sell to their customers. Insurance and Mutual funds are still not widely accepted in tier 2 and tier 3 markets, for them, investment is a word which is too upmarket and this misconception does not do any good to the companies trying to further their business goals. Our platform trains the retailer simultaneously giving scope to companies to expand their operations in the markets untouched by them.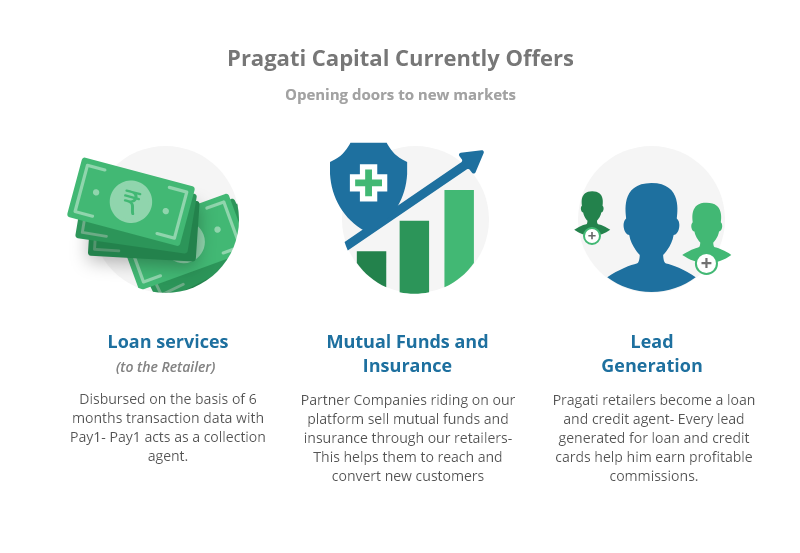 Pay1 Travel – Aapka Booking Partner
The other new service that we are about to launch is Pay1 Travel. The pre-launch campaign has been immensely successful and we have garnered good amount leads in just a span of one week. Through travel we aim to capture a wide market, considering the demand for the service. The Travel platform further strengthens our retailer as it equips them with the travel booking service. We have detailed the service advantages in our previous blog.
With the Travel platform in place today, a Pay1 retailer can offer almost all the services ranging from money transfer to flight booking. This not only benefits their customer but also the retailer as well as the companies selling their service through the Pay1 merchant.